Summary
Surface Enhanced Raman Spectroscopy (SERS) represents promising and extremely sensitive analytical technique for detection of molecules of picomoles and even femtomoles. Presented technology developed by researchers from Palacký University in Olomouc enables sonochemical preparation of glass slides with thin layer of silver colloid particles for SERS applications. Sonochemical method enables formation of silver particles and their simultaneous deposition on glass surface. Due to its simplicity, it is possible to prepare in only 5 minutes stable and homogeneous silver colloidal particle layers, which are highly applicable in various branches.
Field of Application
Pharmaceutical industry
Chemical industry
Food industry
Environment
Warfare agents detection
Explosives detection
Drug detection
Technology Advantages / Potential Applications
Presented technology enables fast, simple and reproducible preparation of layers of silver nanoparticles deposited on glass substrate. Thus prepared layers of nanoparticles exhibit long-term stability and high efficiency in Surface Enhanced Raman Spectroscopy. Utilization of this layers allows detection of extremely low concentrations of analyte in a very small amount of sample (in only single one drop).
Market Analysis
Currently offered SERS substrates costs on average about 35 USD/piece (active area approx. 5x5 mm). By using of presented technology, it is possible to manufacture and sell substrates for SERS with active area approx. 15x15 mm at much lower price.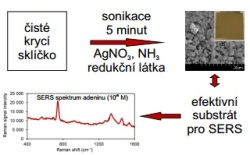 ---