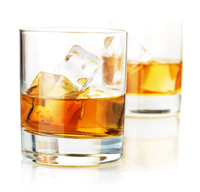 Efficient products authenticity checking and control
Protecting the rights of producers and consumers
Protecting consumers against potentially dangerous falsifications
Clear distinction between original and falsification (100% reliability)
Zero effect on the characteristics and quality of the controlled product
Inability to detect unauthorizedly the presence of the authenticity marker in the product
A possibility to generate various keys to distinguish different producers or batches
An ability to detect changes in concentration of the controlled product
Cost-effective solution thanks to the minimal quantity of the used authenticity marker
Principles of operation
The main principle of KeyLock Instrument operation is a pair of chemical compounds called Key and Lock. One component is intentionally added to the controlled product in such a small quantity and concentration that it is not detectable by any commonly available analytical technique without a knowledge about its complete composition. The amount of added authenticity marker (Key) is so small (nanogram per liter) that it cannot definitely affect the properties of the controlled product. The authenticity marker (the Key) is completely stable and harmless. Without the second paired component (the Lock) the marker´s presence cannot be reliably detected in the product.
Evaluation of the product authenticity
If the analyzed product is authentic, i.e. if it contains the authenticity marker (the Key), adding the second component (the Lock) enables its clear identification.
The KeyLock method shows not only the presence or the lack of the authenticity marker, but enables also evaluation of its concentration, which – if modified by diluting the controlled product – might be clearly identifiable and verifiable.
Applying the KeyLock
The KeyLock Instrument is applicable for any liquid product as well as for solid products for which a liquid feed was used during production. A minimum sample volume is needed for the product authenticity check: µl for liquid products or mg for a solid product sample which would be dissolved in a fluid for the analysis.
The KeLock instrument has been already tested and used in the authenticity control of spirits, wines and perfumes with outstanding results.
---